Hoosier Game Hut is accepting bookings for Laser Tag Parties!!!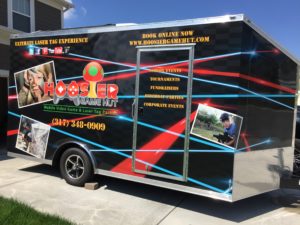 Want something fun, exciting and fast paced to do for your party? Tired of booking those expensive laser tag and paint ball places or bowling alleys? We have just the ticket. The best laser tag party in greater Indianapolis comes to you!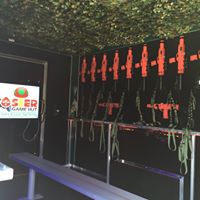 Hoosier Game Hut's mobile Laser Tag is a great way to get the kids outside to run around and play while having an absolute blast doing it. It's also a great team building activity for your team members at work. It's gender and age neutral, so anyone can play. Imagine a battlefield in your own backyard, park, gymnasium or place of business.
We can play indoors or out. Games have been played in warehouses, office buildings, gymnasiums, and church youth centers as well as backyards and parks. Best of all, we come to you.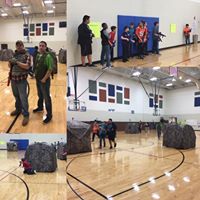 Tactical laser tag emphasizes teamwork and mission accomplishment. Whether you are playing domination (trying to control a device at a point or multiple points on the field longer than the other team) , hostage rescue or destroy the base, every player is important to the game. Unlike the traditional laser tag arenas, there is no individual scoring for each player. Players aren't focused on their individual score and must work with team members to accomplish the mission. No one is singled out for being less skilled than the others. Strategy and teamwork are key.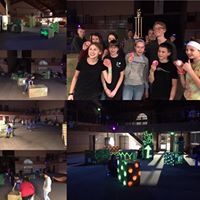 Most of our games are set up so no one is eliminated before the game ends. As players are tagged out, their tagger calls out "Medic! Medic! Man down!" and their sensors all light up and stay lit. At this point, their tagger stops shooting and they must then return to their base to respawn and reset their sensors to re-enter the game. Players aren't knocked out of the game early and forced to stand and watch, waiting for the game to end so they can play again. It's also almost impossible to go through a whole game without being tagged out. Even the best players end up respawning several times during a game. This keeps it fun and exciting for everyone.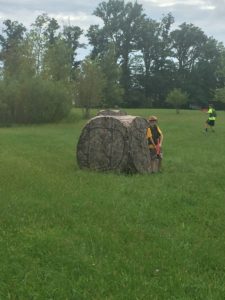 Our Game Coach will arrive at your location, customize a battlefield with our pop up barriers and keep the party moving with a variety of game scenarios. It's like a live action video game.
Our Laser Taggers shoot a harmless, but powerful, infra-red beam, just like your TV remote control. They're completely safe and pose no danger of damaging eyes or causing any harm. Since the typical round lasts about 10 minutes, we can accommodate both large and small parties by rotating players in. Everyone gets to play!
Looking for the ultimate party? We can combine our Mobile Video Game theater and Laser Tag together in an amazing Combo Party!
---
Pricing:
1-Hour Laser Tag Party: $225*
2-Hour Laser Tag Party: $325*
Additional 30 Min $49.50
*Plus any applicable Travel Surcharge. See our Service Area page for more info.