We service the greater Indianapolis, Indiana area from our home base in Fishers, IN. We provide the best birthday parties in Indiana, with our Primary Service Area (shaded in green below) covering a 40-mile radius from zip code 46037. We also provide service to a secondary area as seen in yellow shading on the map.
If you're close to these areas and not sure if we'll come to you, contact us and ask!
Service Area Map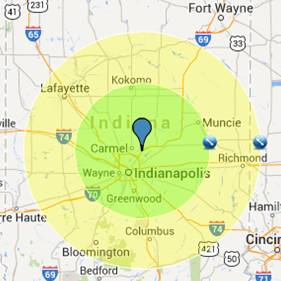 Green-shaded area is our PRIMARY service area (40-mile radius from Fishers, Indiana zip 46037.)
Yellow-shaded area is our SECONDARY service area (40-70 miles from 46037.)
Use this handy application to find your distance from us!
(Please use the "driving distance" shown, not the straight-line distance.)
A fuel surcharge will be added for parties outside our Primary Service Area.
Under 40 miles from Fishers, IN –   No Fuel Surcharge Added.
41-50 miles from Fishers, IN –           $20 Travel Surcharge
51-60 miles from Fishers, IN –           $40 Travel Surcharge
61-70 miles from Fishers, IN –           $60 Travel Surcharge
You will be able to specify your proper surcharge during booking.